Not long ago I mentioned listening to "
Energising Music
"
as a way to get "Energetic". MP3 Players are a Great Technology
to listen to Energising Music.
On the Music Blog you can read blog posts
about Inspiring Music and Artists,


You are also welcome to leave a
comment
with titles of
your most
'Energising'
Music.
'What kind of Music, what titles gives
your the most Exiting Energy Rush....?'
Listening On
Speakers & Headphones: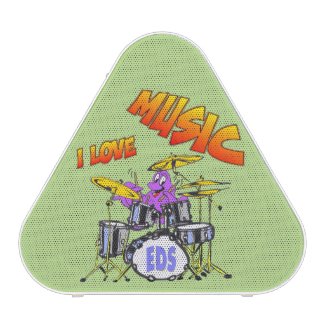 Music Octopus Pieladium Speaker
by
EdelhertDesignStudio
View other Drumming octopus Pieladium Speaker at
Zazzle.com
When you happen to be familiar
with our
Edelhertdesignsstudio Online Storefront
and
especially when you have had
a look at the
Phone Cases Collection
You might have noticed the
Octopus
,
Recently we posted some new designs
with this Octopus, like for example the
Speaker
that you can see here above.
(BTW notice the EDS-logo on
the Base Drum)
You can also discover this design on
Headphones like you can see here below:



Music Octopus DJ Headphones

by

EdelhertDesignStudio

Find more Drumming octopus Headphones at

Zazzle




and on T-shirts


Like for example the one you can see here below:






You can Post your Feed Back by clicking the "Comments" link.